"Die Seiltänzerin" – Wild Theatre (NZL/Wien)
Figurentheater für Kinder ab 4 Jahren
Internationale Puppentheatertage Mistelbach
MO, 24th October 2016
 9:00, 10:30 und 15:00 Uhr;

Familienzentrum Friends
26 November,  um 14 Uhr
Franz-Hochedlinger-Gasse 32, 1020
Theater im Hof, Bolzano, 
December 15 - 17 2016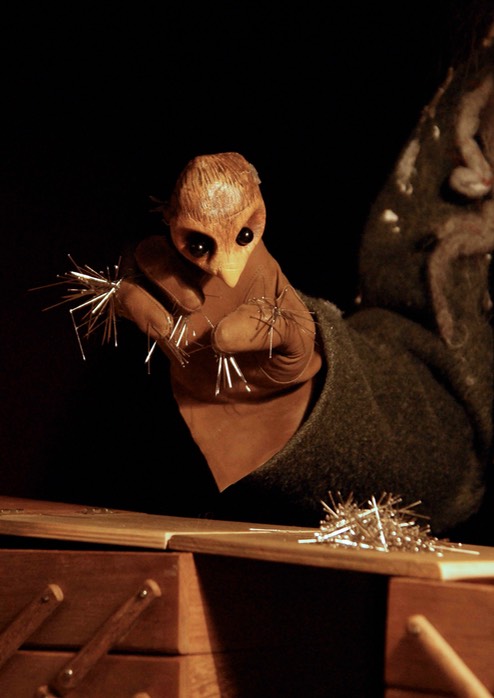 "ding · klang"  Die Kurbel
"Das kluge Gretel"  Das Leiterwagerl
In der Instrumenten-Werkstatt "FIDDLESTICKS" Wien16, Nauseagasse16/1 
Di. 15.Nov. 2016, 19h
Mi. 16. Nov. 2016, 19h
Gastspiel von geschätzen KollegInnen , drei kurze Stücke an einem Abend. 
Reservierung: fidlfadn@aon.at 
oder: 48 171 08, 47 09 573 (Größenangaben werden berücksichtigt!)
Eintritt ist wie immer frei und Spenden sind willkommen. B&S fidlfadn
Die Kurbel
Objekttheater und Live-Musik
 Objekttheater: Fabricio FerrariVioline: Gunde Jäch-MickoDauer: 20 min. ding · klang ist gemeinsames Improvisieren mit Dingen und Klängen. Hauptdarsteller sind Alltagsgegenstände: jedes Objekt ist einzigartig und interagiert mit den andern Objekten und mit der Musik. Die Geigerin streicht, zupft und klopft. Sie bemalt knarrend, quietschend, flüsternd die Aktionen auf der Bühne. Im gemeinsamen Spiel der Dinge und der Klänge entstehen vor den Augen und in den Köpfen der ZuschauerInnen Figuren, Bilder, Assoziationen und Bedeutungen.ding · klang ist eine Einladung zum Spiel mit der Fantasie. Es macht Unerhörtes sichtbar machen und Unsichtbares hörbar.
In ding · klang darf sein was sonst nicht sein darf und darf gedacht werden, was sonst nicht gedacht werden darf.ding · klang erzählt keine Geschichte. Die Geschichten entstehen aus den Bildern auf der Bühne und den Bildern im Kopf.
Immer anders - immer neu.

"Pinned" Concept/performer: Rebekah Wild 
Soundtrack: Hannah Marshall  
Costume: Christina Doerfler
Length: 12 min
Small scale object/puppet theatre with pins, rope, gloves and skulls. Performed by a Hag.  The Hag is disturbed and disturbing, living in her own world, seeing others as ghosts and obstacles. In her past is a lost love and the knowledge of ancient goddesses and strange demons. A surreal combination of pins, rope, leather gloves and wooden tools create a story of lost love over and over.  It begins with a glove, the hand of an old lover, the memories of love. Flirtation. The sharp pangs of adoration. A tangled affair. The mechanisms of abandonment. It ends with a tender ghost story and a flight of fancy.
Das Leiterwagerl
"Das kluge Gretel"
ein Spiel mit Stehfiguren: Verena Divjak
Dauer: ca.15 min

Das Kluge Gretel
Das Gretel, ihr Herr, zwei Hühner, viel Wein und ein aufgeschreckter Gast-
das sind die Zutaten für dieses lustvolle Kurzmärchen nach den Gebrüder Grimm. 
Aufgetischt auf einem Servierwagen.

www.figurentheaterleiterwagerl.at

Puppets onstage: 
Volksoper Wien -Der Zauberer von Oz - 
 June 5,6,11,12,17
Die Prinzessin auf dem Kürbis, from 12 May
Die Unendliche Geschichte, October 2016
Herbsttage Blindenmarkt, Boccaccio, October 2016
Theatre der Jugend , Der Nussknacker, November 2016